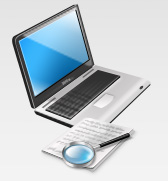 A Proven Partner for Businesses in need of IT Solutions.
CLi is a leading provider of technology products and services for business, government and education. Learn more about who C. Lon is, what we do, how we do it and who we do it for.
CLi Technologies partners with Adobe to implement

Reliable Towing selects CLi Technologies to work with our graphics team in order to produce brand marketing materials

Real Smart Investment (RSI) selects CLi Technologies for break/fix contract and graphic design services

Fort Washington Health & Rehabilitation Center select CLi Technologies for graphic and print services

CLi Technologies partners with Fiber Cloud in order to offer cloud services to Federal and Private sectors

CLi Technologies graphic team recently worked with UPO to create a banner for Earth Day

CLi Technologies continues to work with Fred "The Man" Williams on reproducing his artwork and creating an online website to view and purchase his paintings

CLi Technologies wins contract with Ketchup Resturant by The Dolce Group at the National Harbor, to provide graphic printing services

CLi Technologies continues to work with NPS, providing them with office supplies and equipment

CLi Technologies will be launching an online store making all of the products we have to offer just one click away!

Dynamite Artwork and Graphics Inc. selects CLi Technologies to co-brand a Digital Marketing and Direct Mail Ad campaign to a Hospitality Giant in Maryland.

Fred "The Man" Williams and the CLi Graphics team break new digital ground in launching the Hot Local Artist and his new website in Jan 2012.

CLi Technologies collaborates to deliver a Graphic Print services solution to one of P3 Solutions LLC top clients.

CLi Technologies partners with Preton Limited to deliver monitoring capabilities for your toner cartridges in order to double the yeild of each cartridge.

CLi Technologies partners with Datto, the leader in backup and disaster recovery solutions

CLi Technologies partners with McAfee in order to provide our customers with the best computer protection services.

CLi Technologies reaches new revenue records with Amazon marketing Strategies.

CLi Technologies partners with Appstraction, a google apps authroized reseller
Our services and solutions are scaleable, economical and cover a wide breadth of leading edge technologies. Coupled with multiple tier one integrators and technology providers, we perform time after time with competitive pricing and prompt delivery of our offerings.

Bringing technology to end users is our commitment by leveraging the educated and experienced input of our consultants, we are well positioned to deliver end-to-end, an I/T service or solution that fits your company strategy.
Litigation Imaging Services
Graphic Print Services
I/T Staffing with clearance and security levels
MPS (onsite managed print services)
Supply chain management/li>
Cloud Computing Services
Data Backup & Recovery
Secure Shredding
Secure Storage & Records Management
Recycled toner pick-up program
Professional IT services